We have been live with Optimizer A and B working in concert since October 1, 2020. The results are shown via the chart below (October 1 through end of January 2021).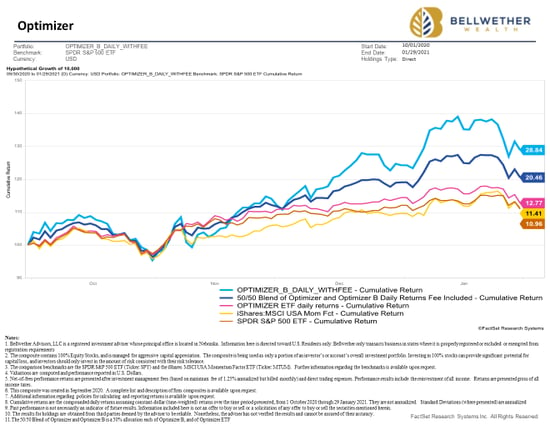 a) The 50/50 refers to the allocation of funds within the Model, 50% ETFs (Optimizer A) and 50% specific stocks (Optimizer B). The top line on the chart is pure Optimizer B.
b) We previously discussed that Optimizer A is the foundation for Optimizer B. The latter uses machine leaning and AI to derive stocks most likely to perform well based on the Optimizer A input.
c) The entire system continues to be numbers driven and therefore objective, allowing investors to minimize the downside of behavioral finance biases.
You are welcome to follow the Optimizer's performance by going to our website. Monthly updates are posted there along with some additional technical information. As a reminder, Bellwether Wealth is the only wealth management firm authorized to run the Optimizer A and B.
You are always welcome to send me an email, and I would be happy to answer any questions you may have.
Thank you for your continued interest.
Best regards,
Brian Beaulieu